Protect your home, health, and appliances by filtering all of your incoming water. The Express Water Whole House 3 Stage Water Filter removes major impurities from your water supply and provides clean water for drinking, showering, cooking, and other home uses. This system removes major water impurities like Heavy Metals, Chlorine, Chloramines Rust, Dirt, Sand, Silt, Volatile Organic Chemicals (VOC), Iron, Industrial Solvents, Total Organic Carbon (TOC), Pharmaceuticals, Turbidity, Odors, and Cloudiness.
Prevent your plants from building up rust and other damaging sediments. Give healthier water to your pets. Extend the life of your dishwasher, laundry machine, and other appliances, and reduce the energy cost.
Our Whole House System is designed to be easy to use and efficient. A filter set is good for up to 100,000 gallons or 6-12 months, depending on incoming water quality. Your filter life may be different depending on your water quality, temperature, and incoming pressure. Comes complete with a full filter set. The large 1" connections and long high efficiency housings are designed for almost no reduction in your home's water pressure. Comes complete with a full filter set, including Kinetic Degradation Fluxion, Phosphate, and Activated Carbon Block Filter. Filter changes are quick and easy with a simple, efficient design.
This is a durable, heavy-duty whole house system able to deliver up to 0.25 gallons of water every second. The system comes fitted to a stainless steel freestanding frame which allows for installation on the ground or a mounted installation. This system is designed to be used in a dry level area protected from freezing temperatures and direct sunlight. The system works with 45-80 psi and water temperatures between 40-100℉. The system includes pressure release buttons for each filter and pressure gauges for system monitoring.
Have cleaner more convenient than any pitcher, faucet filter, or shower head systems. Express Water's 3-Stage Heavy Metal and Anti-Scale Whole House Water Filtration System WH300SCKP is the complete solution for your home.
About The System
Only from Express Water! We designed the 3-Stage Whole House Filtration System to be easy to install, and offer several features unique to our systems.
Save on water! Our filter doesn't send any water down the drain
Triple filtered water for your entire home with no pressure loss - the high flow design of our durable, heavy-duty Whole House System can supply up to 0.25 gallons per SECOND
Solid free standing Stainless Steel Frame: Mounted or ground installation, and easier filter changes, while also adding a protective buffer for your system. Use your system your way!
3 housings made with high quality, durable, 100% food-grade ABS and PCE plastic - the Express Water 3-Stage Whole House Filtration System is built to last!
Includes three accessible pressure release buttons for easy filter change
Three pressure gauges included! Monitor your system's performance, know which filters you need to change and when to change them
Standard 1" connections and long high efficiency housings for easy adaptability and high flow
Our clear 1st stage filter housing allows you to confirm when your filter needs replacing without dismantling the system
Simple twist off housings and drop-and-go filter design takes the hassle out of your filter change
Free lifetime support
Have cleaner, more convenient water than any pitcher, faucet filter, or showerhead system. Express Water's 3-Stage Whole House Water Filtration System is the complete solution for your home - make your house a clean water house today!
Specs
Installation
Customer Reviews
Write a Review
Ask a Question
03/15/2023
Victor C.

United States
one of the best decisions I made for my family!
Since the install, we have noticed a significant change in the water quality of our home. Living in Arizona is already tough with the dry weather and hot temps, and the regular tap water did not help with our skin as it was always getting dry no matter how much lotion we used. After the unit was installed, our skin no longer has that extremely dry feeling and since we also have the RO system with UV and Alkaline system, the drinking water even tastes nicer. Overall we are happy with this purchase!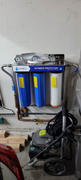 03/02/2023
Glory H.

United States
Quick
Quick and easy purchase. Glad it came with installation instructions to email to the plumber. That made it much easier.
03/02/2023
Jeffery H.

United States
working well
The whole house filter has eliminated odor in the water. It has improved the softness of my hair.
12/14/2022
nilso d.

United States
Exceptional should of bought it long time age
Really good product easy to install and works great
11/03/2022
Kurt M.

United States
Replaced our water softener
The customer service has been excellent any time we have had to contact the company. We've had our reverse osmosis system for several years and it has been excellent. So when our water softener quit and needed repair, I started looking at other options. We decided on the whole home ultimate protection. It's only been in use a short time but is working well. I was concerned we wouldn't notice a difference but we get suds in the shower and the water feels better. Our skin feels better. This was a great option for us. I wish they would have released the salt free softener three weeks earlier tho. I won't miss the expense of bags of salt or carrying them to the basement. Background- we live in a rural area with well water. Our water is extremely hard. Without a softener or conditioner our appliances and water heater scale up quickly. Our skin dries out and we get itchy.